Note:- Advance notice- this is a long review-
I posted this review over on the "Birdforum" site- in the binocular section. I thought I would also post it here.
This is a review of the 3 binoculars that Swarovski makes in the 30 and 32 mm size- The 8x32 EL, the 8x30 SLC NEU and the new 8x30 CL. This is not the highest level of binocular that Swarovski makes. That category is reserved for the recently released, just this year- the Swarovision and the SLC HD. But these are the best that Swarovski offers in 30 and 32 mm at this time.
I am reviewing newly purchased binoculars. The 8x32 EL and the 8x30 SLC had a manufactured date of 2010 and the CL was manufactured in 2011. This a personal review that is based on my personal empirical observations using my eyes and my hands. No specialized instruments were used -other than a tripod/-viewing platform.
I tested the binoculars by viewing from the second floor and my back deck of my house. From this point, I have a view across the Mckenzie River Valley here in Oregon. I can look across the valley and see the hillside across at about 2.5 miles in distance. So I can see from 1 ft to 2.5 miles +. I have a wide variety of items to focus on to test a binocular for- FOV, image sharpness, clarity, image color saturation and rendition and also contrast. These include tree trunks, bare branches and foliage on evergreens and deciduous trees and grasslands and rock formations across the valley. There is an active logging operation going on across the valley. I can view the river down below with a beaver den along one bank. I can observe a # of different birds from small song birds to Osprey's, Turkey Vultures, Blue Herons, ducks, geese, etc.
Here is a couple pics: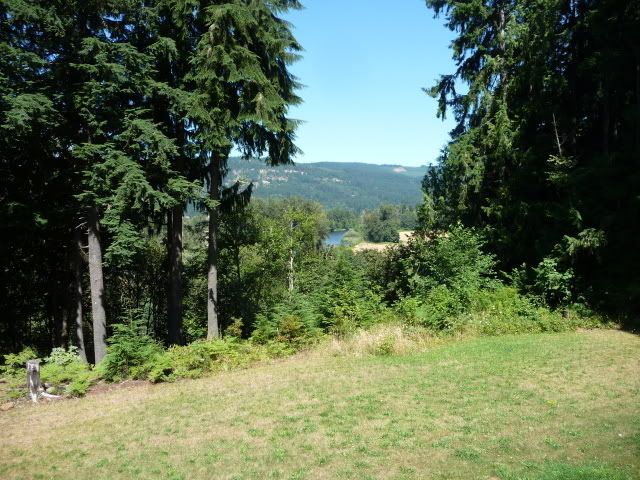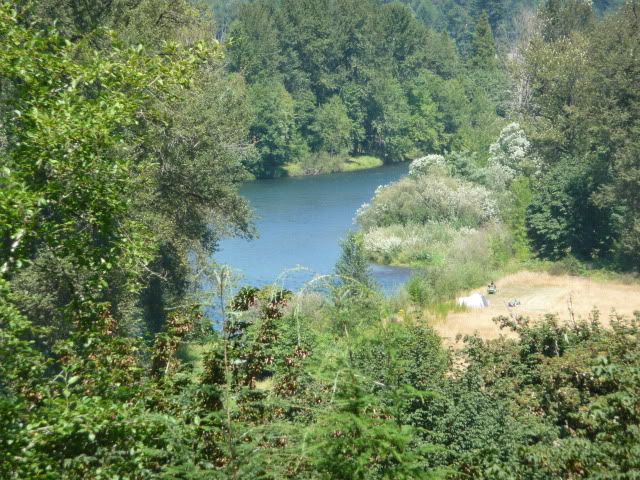 All of this gives me a wide variety of color and contrast to test the image quality of a binocular. Along with this, I have a # of different specific focal points that I use in this setting to regularly focus on to use as reference points. I looked at the binoculars during all times of day and different lighting conditions including bright and low light and cloudy and sunny conditions.
Some Basic specs on the binoculars
:
8x32 EL
Price: $1639 (on sale from reg. price of $1929
FOV 420 ft. at 1000 yds.
Weight 21.9 oz
Eye Relief 15mm
close focus 7 ft.
8x30 SLC NEU
Price: $849 (on sale from reg. price of $1149
FOV 408 ft. at 1000 yds.
Weight 20.8 oz
Eye Relief 15mm
close focus 13 ft.
8x30 CL
Price: $929
FOV 372 ft. at 1000 yds.
Weight 17.6 oz
Eye Relief 15mm
close focus 9.8 ft.
Observations and review:
I will first give a summary of where I ranked these in a few basic categories and then will give a discussion and summary.
Ergonomics
(fit and overall handling)
Rank order- 1. EL 2. CL 3. SLC
Build "Sturdiness "robustness" if you will
Rank order- 1. SLC 2. I would say tie with the EL and CL
Focus
(Knob and use)
Rank order- 1. EL 2. CL 3. SLC
Diopter
(position, build ,use)
Rank order- 1. SLC 2. EL 3. CL
Eye relief
Rank Order- All Equal- all listed at 15mm and all was adequate for me and my glasses
FOV
Rank order- 1. EL 2. SLC 3. CL
Optic Image Quality
:
A. Sharpness/ clarity
Rank order- 1. EL 2. SLC 3. CL
B. Resolution of detail
(using my eyes)
Rank order- 1. EL 2. SLC 3. CL
C. Brightness
(summary of all times day- so includes low light)
Rank order- All were pretty good in this test-
1. EL 2. a tie- SLC and CL
D. Image Colors
- (True Rendition and Saturation)
Rank order- 1. EL 2. SLC 3. CL
E. Image Contrast
Rank order- 1. EL 2. SLC 3. CL
F. Image "Sweet Spot" size
Rank order- 1. EL 2. SLC 3. CL
G. Edge to edge sharpness/ performance
Rank order- 1. SLC 2. EL 3. CL
H. CA
(Chromatic Aberration) ** Footnote- I do not have a problem with CA myself and I did look for this and found a little here- minor. The EL was a little worse at the edge compared to the other 2, but this very well might be due to its large FOV. In the cent none of them were a big problem. The SLC NEU seemed to control CA very well and the CL did a good job also.
Rank order- To me- All 3 binoculars overall tie as far as the center axis with the SLC and the CL having a slight edge over the EL in regards to edge CA.
My Final overall Ranking
of these 30 and 32 MM Swarovski binoculars. This is in regards to my overall Optical and Mechanical summary review.
1. 8x32 EL
2. 8x30 SLC NEU
3. 8x30 CLDiscussion and summary opinion:
This discussion will mostly focus on the new 8x30 CL binocular; as the 8x30 SLC NEU and the 8x32 EL have been out for a while and have been used & reviewed quite a bit. They (the SLC and EL) are about at the end of their run as models. In fact the SLC NEU in any configuration has stopped production and IMO it is only a mater of time that the same can be said about the 8x32 EL- since all other EL's are no longer made and have been upgraded by the Swarovision. Hopefully in a matter of time there will be a 8x30 SLC HD and a 8x32 SV- but who knows.
So to get started with my opinion and explanation of my rankings above- first of all it was my opinion that the EL was quite a bit better than the other 2 and to me that makes sense. I have tested the SLC and the EL in this size before and that was my conclusion then and it is the same thing I found with these samples. I know that Swarovski has said in the past (and I have had their techs tell me the same thing) that the glass and the coatings are the same- only difference is the housing. But, that is just not what testing bears out. I have had a rep from one of the big optic sellers (who does and has had a # of Swarovski's) tell me that there was a definite difference in the resolution between the EL and the SLC. That is what I also found to be true over the last few days with these samples.
The 8x32 EL is considered by many to be one of the all time great 8x32's. I certainly would have to say that it is in that category. It may be debatable (in whose eyes and hands) as to which optic maker makes the best 8x32 (Swarovski; Zeiss; Leica: Nikon- etc.)- but the Swaro 8x32 EL is right in the thick of that discussion. It just has a wonderful ergonomic fe